Tape Life Records artists are simply the aliases and projects of Karl Mohr.
Karl Mohr Audio-Yo was a decade of electronic music madness, experiments, industrial bombast, murky ambient, unique soundtracks – mostly recorded to, and disseminated on compact cassette tapes. The entire 8-album discography is complete and has been released. There were thirty-five very crazy tape releases – somehow the Tape Life curation has been able to make these albums make sense in terms of coherent genre.
Dead Red Velvet is dark electronic, industrial, gothic rock, cabaret noir. Around 1997, Mohr shifted to songwriting and the musical output stopped being techno-crazy and started being lyric-murky. While the Dead Red Velvet alias didn't come until much later, The Ghostly Divide short album really was the beginning of the Dead Red Velvet material.
Blue Visions is commercial chill house. Ambient, tech house, electro house, dub techno. While in Vienna, Austria after the millennial switch, Mohr connected with a band of mafia-style music producers who were focused on Ibiza-style chillout music. One album of delightfully burbling electronic tracks emerged which maintained one foot on the dancefloor and one foot in the swimming pool. Blue Visions emerged as a dedicated commercial dance music project – while there is only one album from Blue Visions – and notably Mohr's most successful album to date – plans to release more accessible music under this title are in the works.
Rex Ramsa is schranz, noise, hardcore, acid house, abnormally high tempo, heavy loopy dance tracks. The Tape Life Catalog has seven albums scheduled for the sonic stamina project that is Rex Ramsa.
Inner Space Voyage is relaxation music for the overstressed, using tempo and timbre to help people unwind. The release schedule leading to 1024 does not include any ISV albums, but there is much material in the pipe.
For the future, a library content project, Continuum Sounds. will feature sampler packs in Kontakt format, to be released as Tape Life Sample Packs (TBA).
The Splintering of Audio-Yo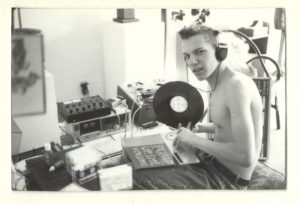 From his early experiments starting in 1987, Karl Mohr Audio-Yo constantly rode the line between DJ culture and the Alternative genre (industrial, goth, etc as it was then called). After the electronic round-up album The Heck in 1997, Karl Mohr shifted into serious songwriting which resulted his 2000 release, The End Of The Line. Mohr had always been searching for an artist alias, and never found one he was completely comfortable with until 2010, with Dead Red Velvet. In many ways, with The End Of The Line, and The Falls Seeds before it (1997), Mohr had already made the shift to Dead Red Velvet and so, in this spirit, the older albums are being re-released sensibly as such. The Karl Mohr Audio-Yo project quietly ended in 1998 with the soundtrack to an independent film, Standard Deviation – this closed the chapter on a decade of over thirty cassette releases.
During his Vienna years (2000-2003), Mohr had the chance to work with the MAP Studio gang developing chill house tracks. What began as a work opportunity, ended up as a legitimate excuse to explore a commercial approach to deep house. This resulted in the project Blue Visions, and the resultant chill house album A Journey Into Chill House. The album went on to become Mohr's most successful and well-received release.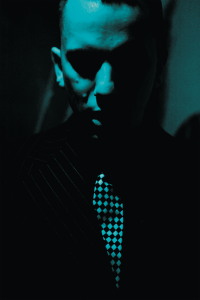 In 2006, Argentinian-born filmmaker Gabriel Teran started to explore the idea of a music video for Mohr's song "These Fine Feathers". This video interest inspired Mohr to write/organize an album focused on heavy dark rock and edgy dance floor singles. (Post-Vienna, he was performing with band mates under the name Karl Mohr & The Fallen Angels.) The 2010 album Full Moon Film marked the transition to Dead Red Velvet, finally resolving the dark-vs-dancefloor duality by making a proper project for the black-clad material.
As a fun, reactionary relief from the towering bleak orchestrations he was building during the Full Moon Film period, Mohr blasted out his initial Droid Charge effort called Stamina Music. It was specifically designed to be abrasive, unlistenable abstract art music for its own sake. In many ways, Droid Charge was the natural successor to Karl Mohr Audio-Yo. Renamed from Droid Charge to Spannhaken in 2011 due to the blatant hijacking of the name by Samsung for their mobile phone, in 2017 the project was finally renamed again to an official Karl Mohr alias: Rex Ramsa.
With the alias Rex Ramsa, Mohr continues the manic Droid Charge legacy, as well as moving into new electronic floor-oriented territory.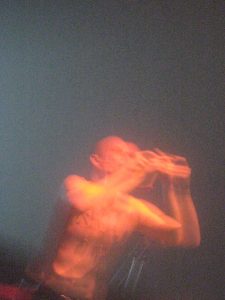 Dead Red Velvet remains the flagship darkwave project which includes a menu of energies from heavy and bombastic, to refined and electronic, to acoustic and cabaret-oriented. Dead Red Velvet flirts with the territory of Johnny Hollow, The Caretaker and the sounds of Dead Can Dance. If there is a central guiding pivot to Dead Red Velvet, it is Mohr's vocals. Dead Red Velvet is now experimenting with acoustic ensembles and the implementation of the Gothic agenda within a torch song framework.
A sentiment of the original Karl Mohr Audio-Yo release, Into The Doomhole, still remains in all that Karl Mohr touches.