Dead Red Velvet
Dark electronic, industrial, gothic rock, cabaret & art song: Karl Mohr's flagship project injects mystery and high-octane thrills.
Dead Red Velvet is the primary project of Canadian dark electronic producer Karl Mohr. With a desire to give a focus to his shadowy electronic work, he chose the name Dead Red Velvet in 2010. Like many musicians in the genre, Mohr writes and produces alone, and then employs a larger ensemble to realize the songs live. In 2003, Karl Mohr built up, what would become, Karl Mohr & the Fallen Angels. While he had had various live performances in various configurations dating back to 1991, this was really the first consistent live performance unit. First with ("Saint") Benjamin Mueller-Heaslip on piano/synth, and then Ian ("Revolution") Revell joined them on electric guitar; this formation added various members including operatic soprano Kristin Mueller-Heaslip, violinist/violist Amanda Penner, film editor Jeremy Munce on the drums, video artist Michael Plourde providing visuals, Carol Bell on theremin, with graphic novel artist Anthony Haley on secondary rap vocals and live large-format sketching.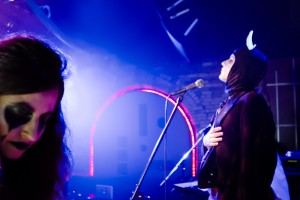 Karl Mohr & the Fallen Angels disbanded after the summer of 2009, after a number of delirious and failed large-format concerts, as Mohr took some time to reconsider how he wanted to present his music in a live context. After the choosing of the name Dead Red Velvet in 2010, Mohr decided to retain his electronic bed tracks instead of using a full band, allowing him the on-stage freedom to express with the microphone and electronic instruments. Ian Revell of Double Eyelid is a continued collaborator in the live setting providing guitar, keyboard and electronic drums.
Mohr, on his project Dead Red Velvet: "We are still finding our footing and musical balance with the new formation, but it shows signs of being a good balance between the rigid electronic sounds I wish to convey, combined with the organic musicianship we all crave in a live performance."
The first Dead Red Velvet album, Full Moon Film, was an experiment in darkwave bombast, to push the limits of idea-density and track counts. Mohr claims this album to be his most coherent and consistent work. Of note, his cover of Avril Lavigne's song "Complicated" (featured only on the physical release of the CD) presents in a heavy darkwave style that hints at black metal and heavy industrial and has received much attention on SoundCloud with thousands of plays and downloads.
Upcoming Releases
Since the release of Full Moon Film, and a period of live performing, Mohr has accumulated quite a large amount of written and partially recorded songs. 2015 may include at least one new Dead Red Velvet release. Future Dead Red Velvet releases will be digital-only.
Previous Albums
2010 – Full Moon Film
Videos
Dead Red Velvet playlists at YouTube includes many live performance videos.